About
Founded in 1955, Menzie Stone Company has become a leading provider, fabricator and installer of natural and manufactured stone throughout the southeast Louisiana and Mississippi region. Our cutting-edge technology paired with unrelenting customer service combine to create a one-of-a-kind experience. We invite you to stop by or make an appointment to visit our showroom today!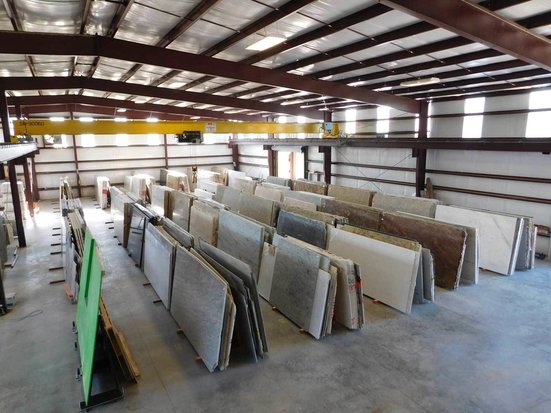 Our Vendors
We're dedicated to providing you with only the best of products. To learn more about one of our trusted brands, click on any of the logos below:
Our Services
Our team of 30+ experienced professionals is capable of bringing your residential or commercial project's dreams to life all the way from conception to installation and even into required maintenance and upkeep.
Design Assistance
Showroom
We carry an extensive line of various stone products in our large, 5,000-square-foot showroom. Whether you know exactly what you'd like or you're looking to explore options, our team can assist in any capacity. Make an appointment or stop by our showroom to get started!
Slab Warehouse
With our 12,000-square-foot warehouse and over 1,200 slabs to choose from, we have the largest inventory and color selection in the region. So whether you're looking to put the finishing touches on a newly-built construction building, are overdue for a remodel or are looking to spruce up your commercial business, we've got something to meet your needs.
Slabsmith
Using our state-of-the-art Slabsmith Technology, we are able to take the stone you've hand-selected from our warehouse and your space's specific measurements to show you exactly what your finished product will look like. We'll then send you a proof of the design for your approval before we begin the installation process.
Fabrication

With the suite of technology available to us in our on-site fabrication facility, we are able to produce an unprecedented level of precision, consistency and efficiency in each of our products.
FUSION CNC Saw/Waterjet
This machine allows us to maximize cutting time while also being as exact as possible. The combination of using a CNC saw for straight cuts and a water jet for tight angles and complex curves results in only the most accurate finished pieces.
VELOCITY Edge Polisher
This machine allows us to finish high-quality edges on pieces of material up to 12 feet long, and it has tool-stagger programming that polishes top and bottom edges in just one pass. Whether you want an eased, bevel or demi-bullnose edge, the VELOCITY Edge Polisher ensures consistency from end to end with pre-programmed profiles for a variety of shapes.
LT-55 Precision Laser Templator
With the pull of a pin, this machine unlocks from its 2D mode and allows a laser to swivel along its vertical axis to measure your entire space three-dimensionally. This tool results in providing us with the most exact of measurements for your project.
Removal

Before installing your new stone selection, our team can safely remove anything that's currently in your project space. While there will inevitably be a small sign of construction, we always try our best to keep the amount of dust and debris to a minimum, setting the stage for your new pieces.
Installation
Countertops
Backsplashes
Bath Vanities
Showers & Tub Surrounds
Outdoor
Restoration & Repair

Whether it's a job that we originally completed or one done by a different installer, we're available to come reseal, restore or repair a job that was previously installed in your space.